Overview
The Firmex team is very pleased to announce the January 2016 release. This release introduces Permission Groups - a powerful new way for administrators to manage users and permissions. Both new and existing projects will benefit from the new features, from group-based permissions to the moving of users between groups.
To make your transition smooth and easy, this release is supported by both live and pre-recorded webinars (below), as well as articles, videos, and the support of our Client Services team. Read these release notes to find out more.
Groups
A group is a collection of users that share the same permissions. This means that once a group has been set up, changing permission on that group will also change the permissions of the users inside that group. In your existing Firmex projects, user groups were always defined by company. With the introduction of groups in this release, you can now group users in any way that suits your project needs. For example:
Combine users from different companies into one group
Change the permission of multiple users across multiple companies in one place - the group
Assign users from your own organization to two different groups, with two separate permissions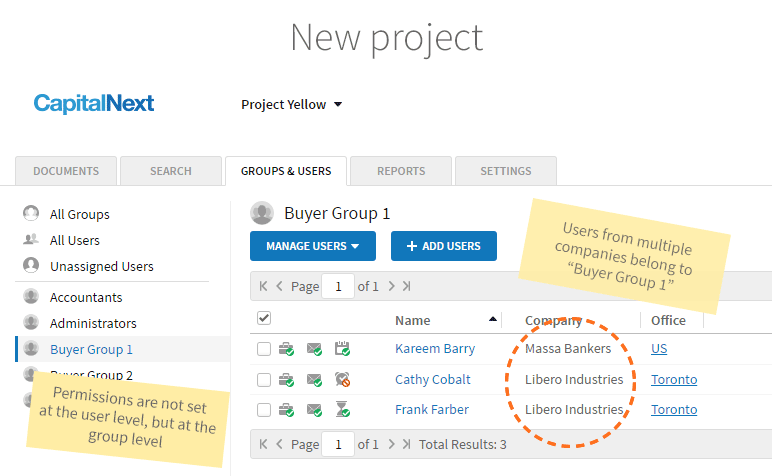 The introduction of groups in this release also comes with a powerful and flexible featureset:
Using the groups functionality
You will get the full benefit of groups when you add a new project to your Firmex site. The behaviour of migrated projects versus newly created projects will differ slightly, especially in your ability to set permission by user (migrated projects) versus by group (new projects). The following table highlights the differences between the two:
 
Migrated Project
New Project
Project creation date
Before migration date
After migration date
Available groups
Upon migration:
- Each company has a group containing its users
- Firmex Support group for temporary support access
Upon creation:
- Administrators group
- Firmex Support group for temporary support access.
Default permissions
Defined at user level
Defined at group level
Existing content permissions
Migrated from company to group level. 
Maintain all existing user content permission.
Not Applicable
Content / user level permission
Yes
No
Content / document level permission
Yes
No

Both new and migrated projects will benefit from the new and improved Groups & Users tab, where all of your project's groups and users can be managed:
View all a project's groups in one place
Each group's users
Add new groups  (new groups may be added to a project by a Project Administrator or Site Administrator)
Move users between groups
Unassigned users, a built-in filter to show users that are in a project, but are not yet in a group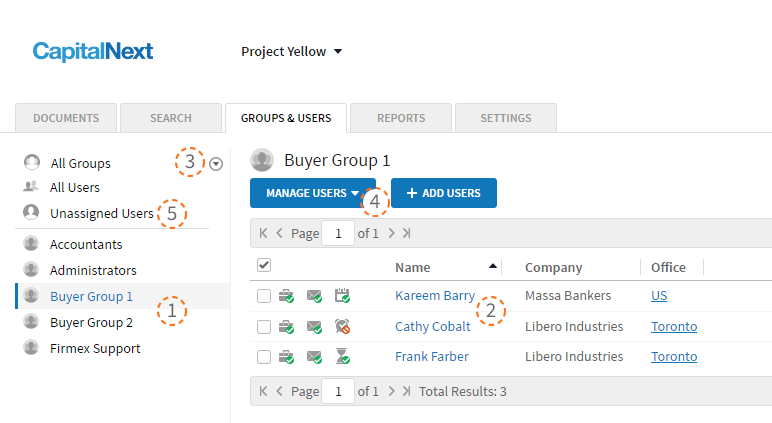 Migrated projects
Your existing project permissions for companies, users, and folder permissions were preserved as part of the migration - companies and their permissions are now groups on a one-to-one basis. Individual user permissions remain in place and have not changed.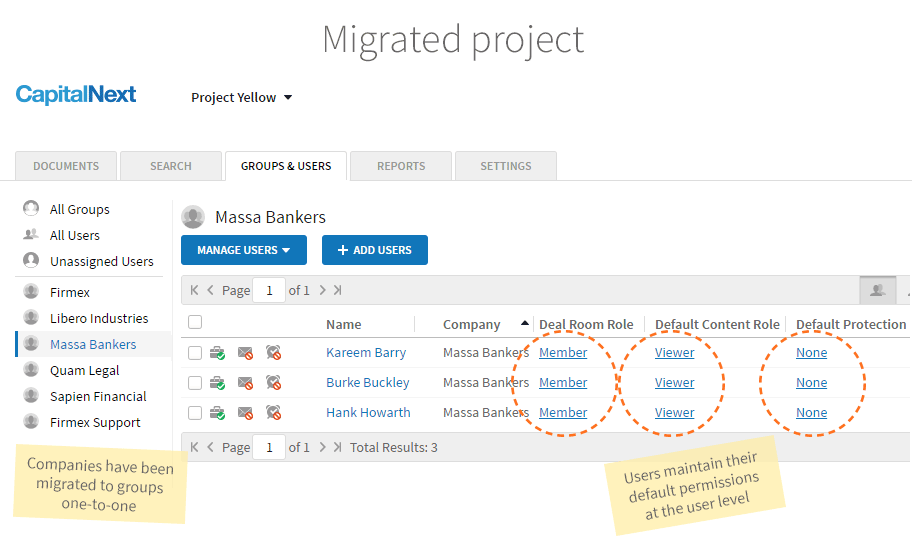 Where can I get more information?
To learn more about the Groups functionality:
Visit the Firmex Knowledge Base, which includes how-to videos, articles, and Frequently Asked Questions, by clicking the question mark icon (?) in your data room
Our Client Services team is available 24/7
We recommend that administrators read through the following content: