The Firmex team is very pleased to announce the May 2016 release. This release focuses on additional enhancements to the Groups functionality including a new help section in the Groups & Users tab, an easier way to add users, UI enhancements including new menu options, and the inclusion of Groups information in two existing reports. 
Project Administrators working in Groups & Users will notice a new help section appearing on the right side of the page. It provides details of each group, as well as quick instructions on how to add users to groups. The purpose is to provide on-screen guidance for administrators to manage users and groups as quickly and efficiently as possible.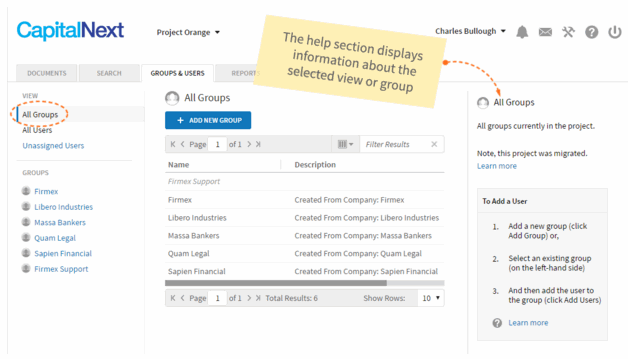 You can also find whether you are working in a Migrated Project in the help section. Learn more about Migrated Projects in the Firmex Knowledge Base.
After the Groups functionality was introduced we found that many of our clients were unintentionally adding users to Unassigned Users which prevented them from accessing folders and documents in their projects. With this release when you add a user in the All Users view, you are prompted to add the user to one of the existing groups in the project. Once you've selected a group, you are taken through the Add User wizard to complete the process of adding the user. If you still wish to add a user, but don't want to choose a group at the time, you can choose the option "Unassigned to a Group" and add the user to a group at a later time.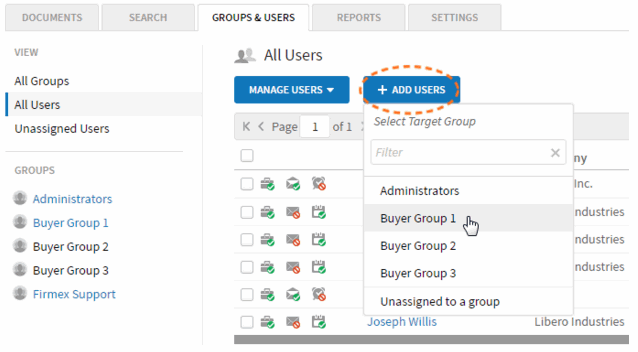 We have updated the Groups & Users navigation with titles and a simpler look and feel. Also notice that the colours of the group indicate whether the group is empty or not. Groups with at least one user within the group appear in blue; and an empty group appears in black. This also applies to the Unassigned Users view.
We have also improved each group's context menu in this release so making changes to groups becomes easier for administrators. You can modify a group's name and description by choosing the "Edit Group" option. For new projects, you can change a group's Default Permissions by choosing the "Set Default Permissions" option. These menu items are also available in the All Groups view context menu for each of the groups listed.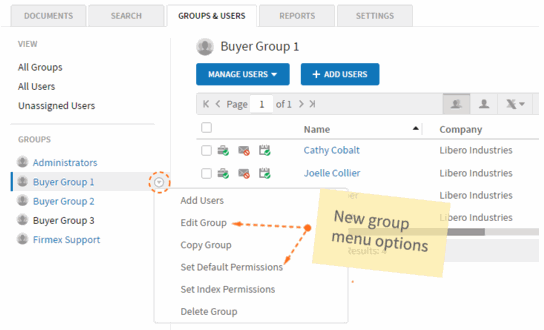 In this release, we continue to update our reports to support the Groups functionality. A user's group information is now included when Project Administrators review user status and permissions in the following reports.
Reports > User Status > By User report. The export version of this report will also contain user's group information.
View As > Export Access Report.
Please be advised that as of May 1st, 2016, Firmex will no longer be supporting Microsoft's Internet Explorer 9 (IE9). Please encourage any users of IE9 to upgrade their browser to the current version of Internet Explorer, or use Chrome, Firefox or Microsoft's new Edge browser. Current IE9 users will receive a notification when logged in to upgrade their browser.