Introduction
A staging environment is a helpful collaboration space between you and your client where documentation can be prepared ahead of processes such as diligence, project financing, and partnerships. In this guide you'll learn:
What a staging project is, and when to use one.
How to quickly load a request list into your project.
How to use Firmex's data review tools to establish a document review workflow.
How to move a staging project to a live project environment.
Let's get started!
What is a staging project
Whenever you are sharing confidential client documents outside of your organization in processes such as diligence, project financing, and partnerships, you need to have a process that answers the following questions:
How do you keep track of all the documents that have been uploaded by the client, and those documents that haven't yet been uploaded?
Who is in charge of uploading what documents?
How do we identify relevant client documents?
Is it safe to share these client documents externally?
Has this document been screened for personally identifiable information (PII)?
Does this document contain sensitive information, and has it been redacted?
A staging environment in your Firmex VDR is a helpful collaboration space that is used to answer the questions above. It's a secure space used to store working documents as you prepare internally to launch these processes.
In the video below, Ronen Segall - Firmex's Product Education Manager - shows you how to set up a staging project to address the questions above. Contact our support team and we'll be happy to help you along your process.
Project Setup
Here are helpful tips to help you set up a successful Staging project.
Differentiate between the Staging and Live project
Make it easy for your team and your client to differentiate the staging project from the live one. Include the word 'Staging' in the project name.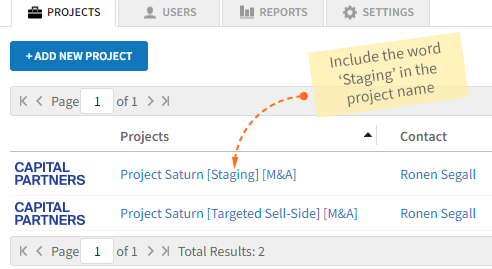 Maintain clear communication with your client
A project welcome message appears at the top of your staging project, and is a useful place to communicate instructions with your client. Use it to communicate deadlines, contact information, and workflow reminders.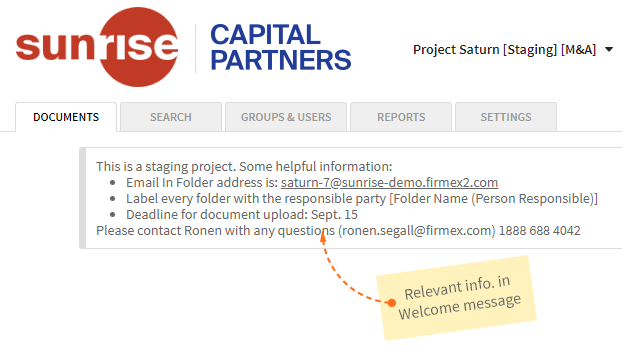 Quickly import a request list
Use Firmex's due diligence import template to quickly set up your request list items.
Clearly identify the responsible parties
Rename each folder so that it contains the responsibly party for it. For example, if the folder is named "Finance", rename the folder to "Finance [Jason]" to make it obvious to Jason that he is responsible for the Finance folder.
Use email to upload documents while on the go
Set up a catch-all folder where documents can be emailed in.
Set up and invite your client
Set up your client group with a content role of Contributor. This allows your client to upload documents, but not delete them.
Document Upload Workflow
Upload documents to their placeholders
Use one of Firmex's upload options to quickly fulfill the request list. Quickly jump to folders using filters.
Get notified when new documents are uploaded
Firmex can notify you of any newly uploaded documents. You can change the frequency of emails for each of your projects.
Document Review Workflow
Plan your document review
Before you start clicking documents, get an understanding of what items have been uploaded by printing or exporting the Index reports. You can also use Quick View folders to get an overview of all the documents in the project.
Review and label documents
Use the Firmex Viewer to quickly review documents. Then, use content statuses to identify which documents have been reviewed, which require follow-up, and which items have been approved to move to the live project.
Redact sensitive information
Use Firmex Redact to quickly redact sensitive information, all without leaving your Firmex VDR. A redaction icon indicates to you and your teammates that the document has been redacted. Document versions ensure that you and your team can always access the original document.
Notify users via email of documents requiring special care
Manually notify users at any time of documents requiring special care.
Moving Documents To The Live Project
Only download approved documents
Use Firmex's bulk download tool to download documents with a content status of "Approved". You can select this option under "Download Options".
Bulk upload the approved documents to the live project
If you've bulk downloaded all of the approved documents, you can upload the folder structure to the live project. All of the files and folders will appear as they do on your computer.
(Alternate option) Copy documents to the live project
Use the move/copy tool to copy over documents from the staging project to the live project.
Satisfy requests in the Staging project
Keep the staging project open during the live deal. Use it as an internal document-sharing space to satisfy requests for information relating to the live project.