Compiling reports and communicating with investors and stakeholders doesn't have to be stressful. Firmex makes it easy to organize and deliver reporting, and provides investors with continuous access to the information they need.
When I use the term "investor reporting" I'm referring to any number of different use-cases where you need to provide regular financial reporting to your stakeholders. This might take the form of Private Equity, where the VDR is used to communicate with limited partners, auditors and portfolio companies in one secure location, but also applies to Venture Capital, Real Estate Investment Trusts, and Joint Ventures.
In the guide below you'll learn how a Firmex VDR streamlines investor reporting.
It's often our clients who've used their VDR for fundraising who transition to investor reporting. Investors already have a login to Firmex and are familiar with the platform, making it an easy transition for investors.
Alongside their fundraising project, investors will see an additional project where they'll find their own investment documents. If an investor is not a part of a fund or project, they will not be able to see or access the fund or project.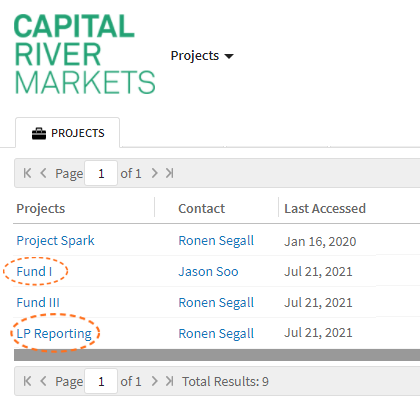 Let's take a look inside a typical investment project and folder structure.
You'll create a new project for each of your funds. That project contains your fund documents, as well as separate directories for each of your investors (LPs in the examples, below).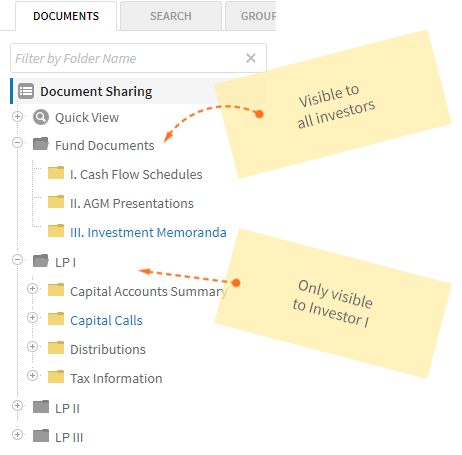 Fund Documents contain the investment criteria, cash flow schedules, and general fund documents. This directory is available to each investor.
Each one of the LP directories, above, is only visible to that LP. Meaning, LP I is only able to see their own documents, and no one else's.
You can create the first investor directory and folder structure manually, and then copy it multiple times for each additional investor. You can also work in your Operating System, and then drag-and-drop the entire folder structure. This is what the directory typically looks like, divided by category and then each year receiving its own subfolder.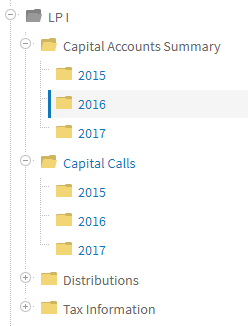 Firm Materials are typically stored in their own project or directory. Whenever a new investor is added, give them access to your firm materials project or directory.
You may choose to be as permissive or restrictive with your permissions, depending on how your firm operates.
In a permissive project, the default permission allows your investors access to your documents. That is, you set a Default Content Role of Viewer, giving your investors access to your documents, and only restrict certain areas of the project.
In a restrictive project, the default permission restricts your investors from seeing documents. That is, you set a Default Content Role of No Access, and only give investors access to certain directories and folders.
Notify your investors as soon as documents become available by setting a short notification frequency, such as immediate or hourly.
An immediate email frequency sends an email to an investor as soon as a document becomes available.
An hourly email frequency sends an email digest to the investor summarizing all of the documents that have become available in the last hour.


We typically don't recommend setting such short notifications for M&A deals, but these shorter notifications are ideal for monthly or quarterly investor reports. Keep in mind, investors may also change their email frequency through their own email preferences.
In addition to automatic email notification alerts, a Firmex administrator may choose to manually alert investors of new or existing documents. For example, after looking at the Document Activity report, you may notice that an investor hasn't looked at the most recent offering documents. In that case, you would use the Notify Users feature to notify users who haven't yet viewed the document.
Firmex's reporting suite lets you see who has opened what document, and when they opened it. That also means you see who hasn't looked at any documents, to better gauge investor interests and concerns.
View our Firmex Reports guide.
Of particular interest are the following reports:
User Status (By Group or User) - At a glance, tell which investors have been added, invited, and logged in. For those investors that haven't logged in, follow-up with a personalized email, and ensure they have received their invitation email.
Log In Activity (By Group or User) - Which investors are frequently logging in, and which aren't?
Document Activity (By User) - A powerful report that lets you see which document has been viewed by which investors. You can filter by document name or investor name. You can also export the report to Excel to further analyze the activity.
Empower investors with a secure, self-serve investor portal, available 24/7 via the Firmex website or mobile app for iOS. Making available an investor's complete history on the secure investor portal means investors are able to self-serve at any time, so you can spend your time better managing your investor relationships.