What is the Document Storage Location?
For administrators creating a new project, Document Storage Location is a setting that determines which data centre Firmex uses to store documents for that specific project.
Currently, Firmex is able to offer servers located in Canada, United States, and Germany for the storage of documents.
Why does Document Storage Location matter?
Many of our clients have an internal or external need to ensure documents are stored in a specific geographic location.
Document Storage Location guarantees that documents are always stored and served from the data centre that the administrator selected when creating a given project.
This is an important setting, as it can not be reversed once a project has been created. Please contact your Site Administrator or Firmex Support if you have any doubts about which data centre to choose.
Why can't I see the Document Storage Location option?
The Document Storage Location option is only visible if Firmex has configured your site to have multiple data centres enabled.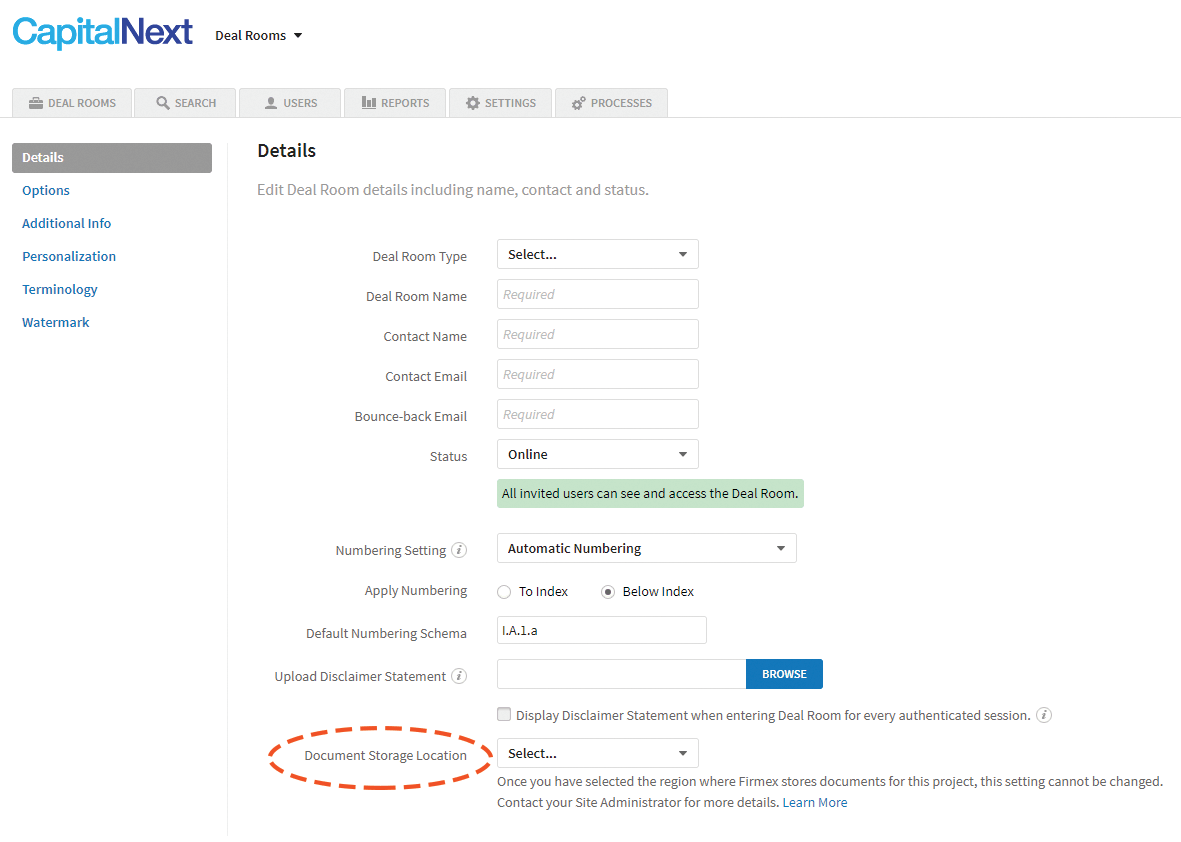 In cases where only a single data centre is enabled, Firmex will not expose the Document Storage Location option.
If you would like to enable more data centre locations, please reach out to your Account Executive.
Which data centre is the best?
All Firmex data centres offer the same world-class security, reliability, and performance.
What happens if I selected an incorrect Document Storage Location?
Firmex VDR cannot migrate your project between data centres at this time. Please contact your Customer Success Manager or Firmex Support if you require any assistance with an incorrect Document Storage Location selection.
Disclaimer: This article makes no assertion of the data residency of your specific Firmex site or projects. Please seek outside legal advice to confirm that the configuration of your Firmex VDR conforms to your particular data residency requirements.