Your deals are unique, and the language used in your data room should be as well. Tailoring the terminology of your data room is easy, maintains consistency, and helps your users find the information they are looking for quickly.
Firmex's default terminology
Firmex tries to suggest terminology for your project based on your project's type. For example, if an M&A project type is selected, Firmex assumes you would like to call your directory "Due Diligence". An Administrator typically chooses the project type when the project is created, and the project type can be modified from the project Settings tab. Each project type and the associated terminology can be found here.
Changing the project's default terminology is done through the project Settings > Terminology tab. 
How do I enter French project terminology
The French translation of project-related terminology (e.g. Index, Due Diligence, Deal Room) may be modified by a project Administrator. To do so:
In your project, click the Settings tab.
Click the Terminology tab.
The English terminology is shown. Click the French tab to modify the French terminology.
Note: Your site's terminology (which includes what a project is called) can be changed by a Site Administrator from the Site Settings > Options > Terminology tab.
Customizing the heading
The heading is the top-most container of your project, and can contain folders and documents. Move your mouse over the heading and click the pencil icon to rename it.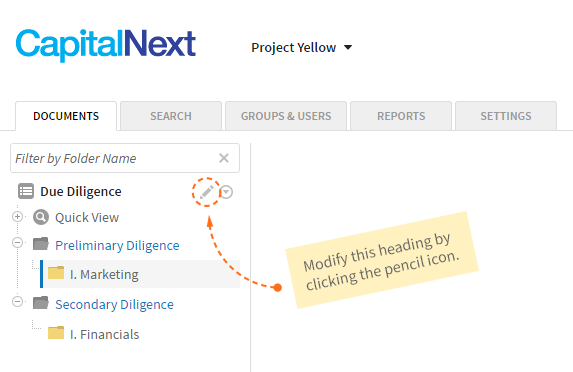 Customizing what a directory is called
To change what a "directory" is called, go to the Settings > Terminology tab.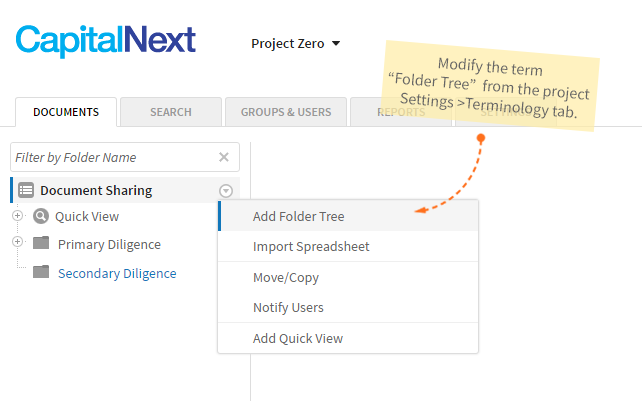 Customizing what a project is called
Sometimes, a "project" is not a "project". For example, a medical clinic is using Firmex to keep track of patient records. Each patient gets their own Firmex project. In that case, a "project" can be called a "patient". Starting a new project is starting a new "patient record".
Changing what a project is called can be done by a site administrator or by Firmex. Do so from the Site Settings > Options > Terminology tab.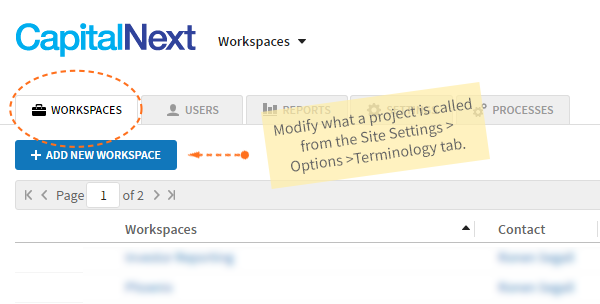 Related Resources
Support