Creating Question Groups
In Step 1 of setting up Q&A, you will assign users to question groups such as buyers or bidders.
On the left side of the screen, you see a list of users and companies that are currently in your project. If you don't see the desired users there, simply add them as a user in the Groups & Users tab.
On the right side of the screen are your Q&A groups, which Firmex has labeled "Buyer 1" and "Buyer 2", depending on the workflow you selected. You may add more groups using the Add Group button.
To add a user to a group, drag-and-drop them from the left side of the screen to the right side of the screen. Multiple users can be added at once.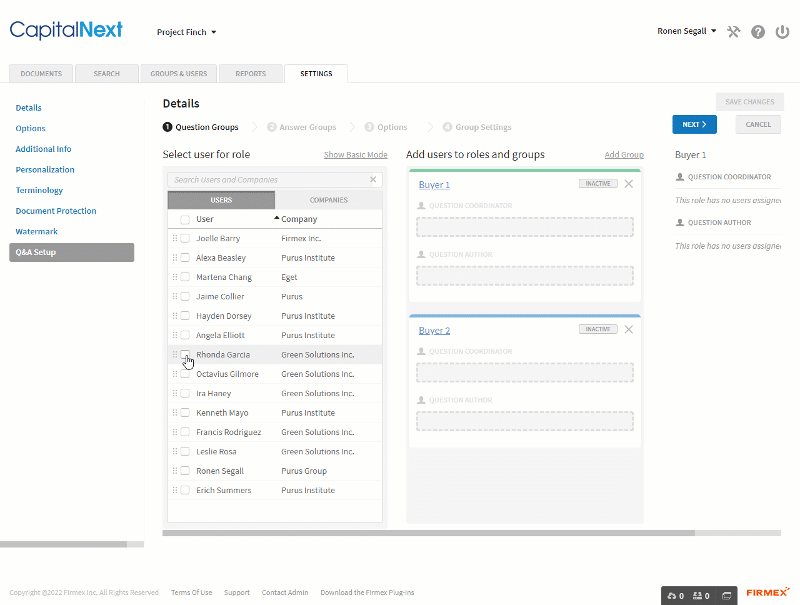 If questions must be reviewed before submission to the answer group:
Assign the gatekeeping team members to be the Question Coordinators (QC). The QC will be the only user that can submit questions to the answer group. Their role is to review questions, compose questions, remove duplicates, etc.
If a QC is present, then Question Authors (QAs) may compose draft questions, but not submit them. The right pane explains these roles in more detail.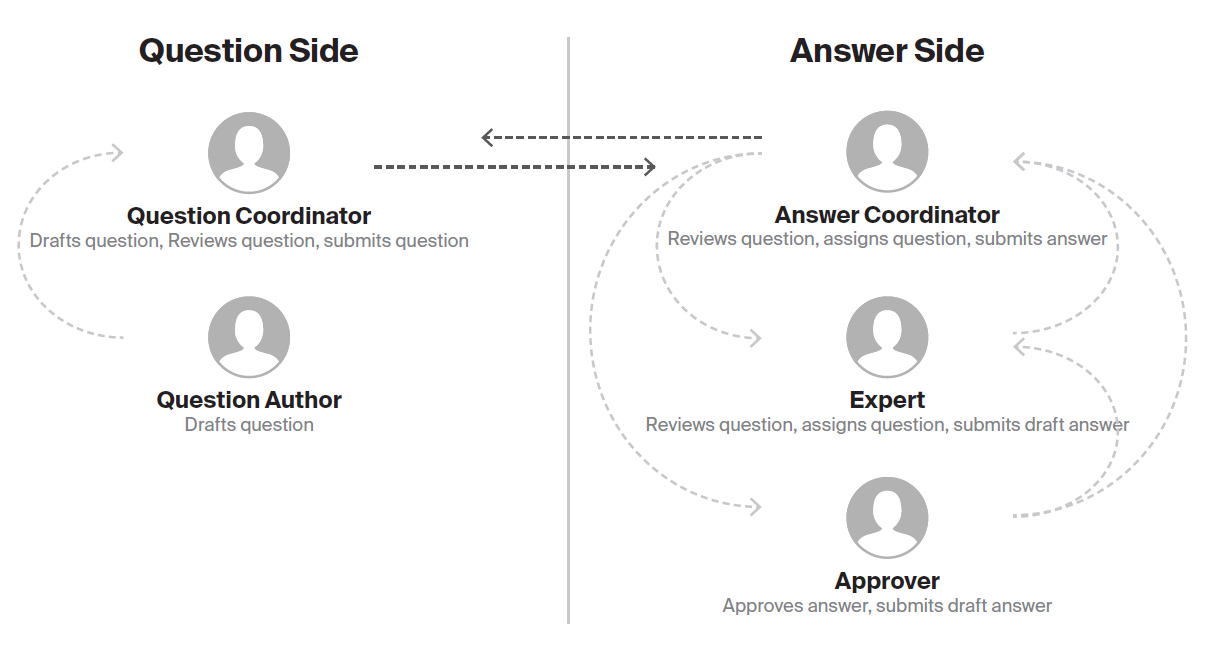 If any user in the group may submit questions without review
If everyone in a group is allowed to submit questions, place all users in one role (QC or QA) and leave the other role empty.
Each role has its own guide:
[insert once published]
Managing Question Groups
To switch a user's role, drag-and-drop them to a different role or group.
To remove a user from a group, or from the Q&A entirely, click the X button next to the user you want to remove.
To change a group's name, click the group name, update it, and press Enter to save
To add additional groups, click the Add Group button.
To delete a question group, click the X button located at he top right corner of each group. The group must be empty before you can delete it.
Question groups will be Inactive by default until you are ready to launch the Q&A, at which point you need to change their status to Active in Q&A Settings
All changes must be saved before navigating away


Once your Buyer groups are set up, go on to the next step. Note that you can modify these groups at any time, even after setup.