Firmex can provide all users with automatic email notifications whenever new documents are uploaded to a Firmex project. The email notifications are sent on a set frequency - for example, once a day or once an hour - and contain links to the newly uploaded documents. The emails are sent from the domain (@firmexpostmaster.com).
Only users with access to a document will be sent a notification. The frequency of notifications is initially set by the project's Administrator, and may be changed by each user to suit their needs.
To change or enable document activity notifications:
Non-administrators
Log in to your Firmex project.
From the top-right corner, click your name and select Manage Firmex Emails.
Set your Frequency of Notification settings and click Save.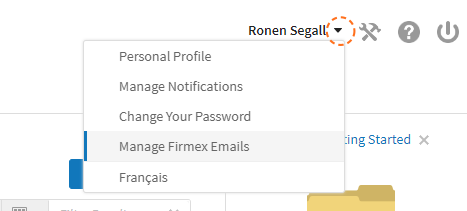 Administrators
To change a new or exisitng user's notification frequency:
When setting up a new user, in the "Set Notifications" step of the Add Users wizard, select the user's notification frequency.
To change an existing user's notification frequency, from the project's Users tab, change the user's frequency by clicking the icon next to the user in the Notification column.

To enable or disable the Document Activity Notification engine in a project:
In your project, click the Settings > Options tab.
Enable Document Activity Notification.
Click Save Changes.