As a Q&A Expert you are able to draft answers to questions, but you cannot submit them back to the Question side.
Expert Quick Filters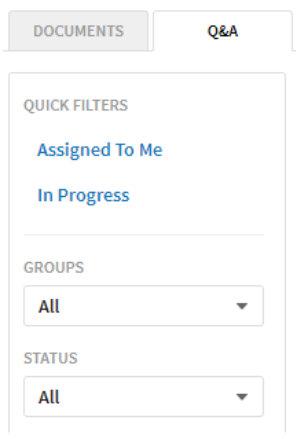 When logging in, you will see filters titled Assigned to Me and In Progress. 
Assigned to Me are questions that have been directly assigned to the Expert. They require the Expert's attention. 
The In Progress filter shows questions that are currently in progress - they are not assigned to the Expert directly, but the Expert can see them. 
Drafting an answer
To answer a question, click the question title. You have the same options as the Answer Coordinator (AC) such as linking or uploading documents, or assigning the question to someone else. However, Experts can only propose/draft answers to questions - all drafts must be approved by the AC.
Exporting
The Q&A results that you see in the Q&A tab can be exported to an Excel spreadsheet.

Export All Results will export all questions and answers available to you in the Q&A.
Export Filtered Results will only export the questions and answers within the filters requested via the left pane.