As a Question Coordinator (QC), you are able to submit questions directly to the Answer Side, but you must also submit the questions that have been drafted by the Question Authors in your group.
Submitting or archiving draft questions from Question Authors
Questions that have been drafted need to be triaged by Question Coordinators. From the Draft Questions filter, select the Question Title to view all details. From here, you may edit the question, category, and/or priority before submitting it to the Answer Side. Additionally, you can choose to link any documents in the VDR to the question.
Alternatively, draft questions can be deleted by using the drop-down. Note that once questions are deleted, they cannot be restored. The Answer Side will not see a record of deleted draft questions.
You can use the checkboxes to submit or delete questions in bulk.
How to ask a question
There are several ways of asking questions.
Ask a single question
From the Q&A tab, click the Add button.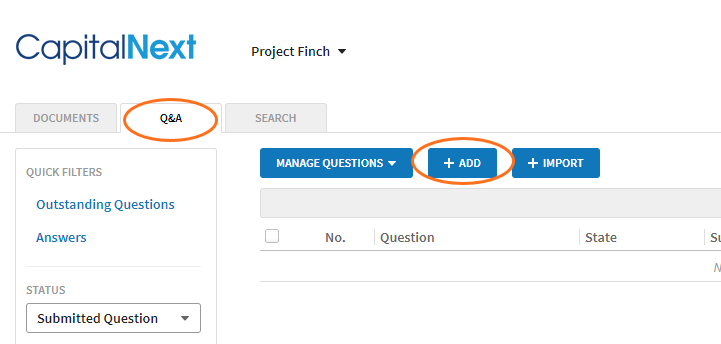 Fill in the question title, give more detail if required, and link to a document or folder if applicable. Assign the question to a category, give it a priority, and then either save the question as a Draft if you're a Question Author or Submit the question if you are a Question Coordinator.
If there is no Question Coordinator present, a Question Author may submit a question to the answer group directly. Once submitted, the question cannot be revoked and is handed to the answer side.
Another way to ask a question is from the Documents tab.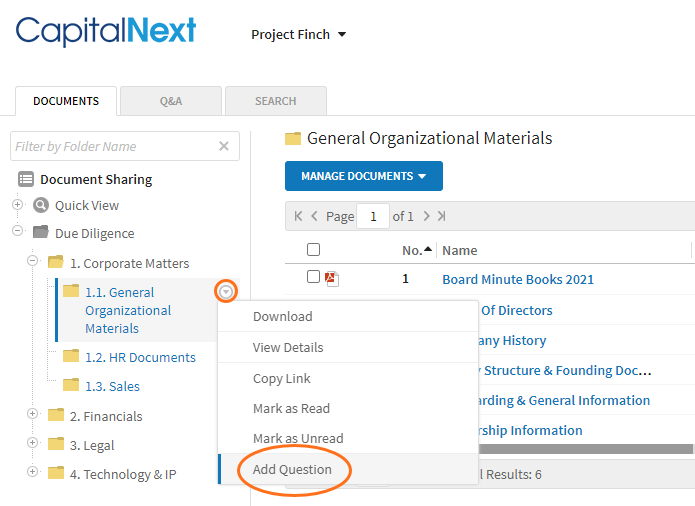 Right-click a document or folder and select "Add Question". The same question screen as above appears, linking to the selected folder or document.
Import a list of questions
You may also import a list of questions using a spreadsheet. A question group can fill in all of their questions in the Excel spreadsheet, and then import that spreadsheet into Firmex. This works well for groups that have a lot of questions, as well as for groups that don't have a Firmex account for everyone that wants to ask a question. The template is accessible through the Q&A tab by clicking the Import button. Questions may be imported on behalf of a question group by the Answer Coordinator.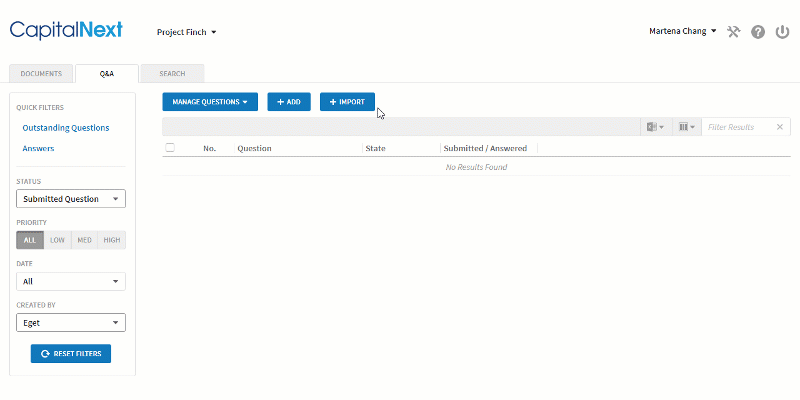 How to reopen a question
QCs are able to reopen questions that have answers, but Question Authors are not able to. This is typically done to ask for clarification or more details while keeping a record of the original question.
To reopen a question, simply select the question title and then the Reopen button.
The Activity Feed provides a timestamped history of your conversation to give you the complete context surrounding the original question. Note that public answers cannot be reopened.
Filter questions

Question and answer activity will appear in the Q&A tab, which is next to the Documents tab.
In the left panel, you'll see preset "Quick Filters" that allow you to see Outstanding Questions and Answers.
You may define your own filters by using the drop-downs underneath these filters. To see every question and answer in any state, click "Reset Filters".
If there is a QC present, you will also see a Draft Questions filter for those questions awaiting submission to the Answer group.
Some questions will change colour depending on the amount of time they have been opened. Questions appear in black text when they have been open for less than 3 days. They will turn orange when they have been open for 3 to 4 days. They will appear in red text if they have been open for more than 4 days. Questions may also display the text "Public" if the Answer Group has decided to share the answer publicly.
Exporting questions and answers
The Q&A results that you see in the Q&A tab can be exported to an Excel spreadsheet.

Export All Results will export all questions and answers available to you in the Q&A.
Export Filtered Results will only export the questions and answers within the filters requested via the left pane.